Dean Waite
Biography
Dean is a school teacher from Brisbane, Australia. He has a wife and two boys who are all passionate about reading. In his spare time, when he's too tired to write, he loves to read great books, watch intriguing movies and play with his sons, who enjoy soccer (known as football in most countries) and cricket (which is pretty much unknown in most countries!)

Dean is always telling his students that the best thing they can do to help themselves achieve success in every subject (and in life!) is to read as much quality writing as possible. Without a firm grasp of their language, everything is always harder than it needs to be. To assist them, and hopefully others too, Dean set about writing a short action novel suited to teenage boys, who often find it difficult to engage with reading. '1 Life 2 Die 4' is the result of this effort, and Dean is very keen to hear from readers as to whether they feel it has achieved its goal of providing quality, enjoyable action reading for this audience (and perhaps for others as well?)

Like most authors, Dean dreams of making enough from his books to allow him to bring to life some of the other stories which are currently trapped inside his head. Sadly, the reality is that most authors make very little from their writing, so they are forced to squeeze it in around a 'regular' job. Rest assured that their slice of the few dollars you might pay for their ebook makes more of a difference to them than you can possibly imagine.

Dean has also written the first (much longer) book in a different series for young people, but he is hoping to miraculously find time to write the second book in this new series before publishing the first.
Books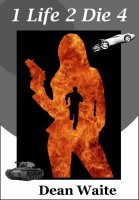 1 Life 2 Die 4
by

Dean Waite
On his way to a regular dental check-up, 14 year old Dan Macintyre suddenly finds himself trapped in a dizzying race for survival. Partnered with a gorgeous woman he has never met before, Dan flees through the city with heavily armed assassins in hot pursuit. If he can only discover what the hell is going on, perhaps he can find some way out of this mayhem.
Dean Waite's tag cloud