Debi Hall
Biography
Debi Hall currently lives in Butte, Montana with three rescue Whippets (Zoom and Cricket and Astro) a rescue field kitty (Garbot) and a fun-loving man who drag races. Having been married and divorced, twice, home is where the pets and the bed are. However, Butte has stuck on her and her goal is to unpack everything and never move again! Armed with BFA in creative writing, she set off on the National Novel Writing Month Challenge in November for the last several years. Hey it's free and it's fun!
Hall enjoys writing both Young Adult Fiction for the compelling stories, and Adult Romantic Comedy which is a return to her writing roots. She likes creating quirky characters and letting the outside environment interfere with the characters best made plans. When not writing, Hall likes to crochet, do crafts, drive very fast cars, cook and visit with friends.
Books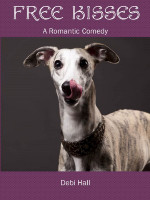 Free Kisses
by

Debi Hall
Romance author Shelby Vogel adopts a whippet puppy the adventure takes off as "Cricket" wiggles her way into a strangers house through the very large doggie door. Unable to coax the pup out, Shelby wiggles in and meets Cole Clayborn, a man handsome enough to give any of her romance novel heroes a run for their money and he's in a lime green bath towel....
Debi Hall's tag cloud