Deborah Potashnik Hecker, PhD
Biography
From her graduate training at Columbia University and The Union Institute (Cincinnati, Ohio) to her thirty-five years of clinical work and private practice, as well as her own divorce journey, Dr. Hecker has the experience and wisdom to guide and inspire others to know themselves. Dr. Hecker's individually tailored counseling has helped countless people face their challenges and build successful lives. For more information on Dr. Hecker and her practice, visit her website at www.drdeborahhecker.com.
Where to find Deborah Potashnik Hecker, PhD online
Books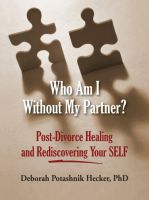 Who Am I Without My Partner? Post-Divorce Healing and Rediscovering Your SELF
Whether you are contemplating divorce, in the middle of the legal process, or struggling through its aftermath, Who Am I Without My Partner? is the beacon that will guide you through one of the most difficult times of your life. Renowned divorce therapist Dr. Deborah Hecker takes you through the grief of losing a loved one and the challenge of redefining who you are post-divorce.
Deborah Potashnik Hecker, PhD's tag cloud