Dean Marden
Biography
Dean Marden lives in the Australian capital of Canberra with his wife Sophie, enigmatically blond half-Chinese daughter Scully and newborn son Ryson. When not writing, Dean operates as earnest public servant by day and disinterested postgraduate student by night, inartfully placed as the lazily unsalted meat within the inanely idiotic sandwich of anti-omniscient politicians and fecklessly-detached academics, all while increasingly faltering in his attempts to stay one step ahead of his daughter in learning Mandarin. Writing serves as Dean's creative outlet and much-needed sanity stabiliser.
Books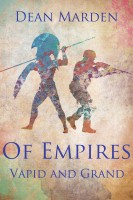 Of Empires Vapid and Grand
by

Dean Marden
Chosen to partake in an unknown government initiative, Cawdor High's graduating students are quick to find their old rivalries playing out on a scale grander than any one of them could have imagined. Given control of fourteen ancient civilisations within an immense virtual world, the group must engage their foes and protect their allies through leveraging all the powers of human history.
Dean Marden's tag cloud