Devesan
Biography
Born in 1938 (Age: 75) Educated in Thiru'ananthapuram, Kerala. Worked in ISRO (Indian Space Research Organasation) till retirement in 1994. Along with the conventional education and official life, an equally strong and full-fledged spiritual inquisitiveness was developing in me from early childhood (say from the age of 3). I had the good fortune of meeting ever so many spiritual luminries from all over India – some very clear-headed, and some not so very much. There is a long list of teachers who contributed to my development (from Valmiki and Vasishta to the present day). But I could not so far find anyone who spoke 100% unalloyed truth only. So I imbibed what was acceptable to me in their teachings, and discarded the rest. Everybody falters when they come to use the word GOD. all their teachings evaporate. The confusions prevailing in the field of spirituality pains me; the way almost all the spiritual teachers handle it irritates me. And hence this book. This is an answer to the spiritual pauperity with which the world is flooded. I had a visit to Osho Centre (near Delhi) for a REGRESSION INTO PAST LIVES. And I understand that my two immediately preceding lives were in the roles of advanced sanyasis. Maybe my present spiritual understanding and clarity and conviction has the backing of these two previous lives also.
Books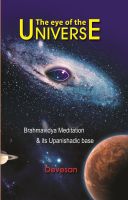 THE EYE OF THE UNIVERSE
by

Devesan
A highway to self-realization. It saves you from the eternal miserable cycle of births and deaths. This book reveals the Himalayan heights of Hindu religious philosophy. Laying bare under broad day-light the less-known realities of Hindu religion, this exposition will eventually help to cool down the religious heat and passions, and thereby contribute to world peace.
Devesan's tag cloud