Diane Mandle
Biography
Diáne has been practicing Himalayan/Tibetan Bowl Sound Healing since 2000 when she was already working as a Polarity practitioner and a Life Coach. Wanting to expand her knowledge of energy work she began a two year course of study of Tibetan bowls on the east coast with Sacred Sound Workshops and became their first certified practitioner. After relocating to California Diáne established a private practice integrating Polarity, Sound Healing and Coaching and in 2004 became California's first State Certified Tibetan Bowl Practitioner/Instructor. Her work includes educational workshops, trainings and concerts nationally. Presently associated with the San Diego Cancer Center as one of its Complementary Therapy Team members she offer regular sessions to their patients. To date she has produced three acclaimed CD's, 'Return to Om', 'Sarasvati's Dream' and 'Being Well: The Journey' as well as two books "Ancient Sounds for a New Age: Introduction to Himalayan Sacred Sound Instruments" and "How to Clear Space with Sound Using Tibetan Bowls & Tingshas". Diáne has appeared on numerous radio and television programs, been published in a multitude of journals, magazines and blogs and has traveled to Nepal, Tibet and India to select high quality instruments and expand her understanding of the originating culture and healing modality. In June of 2008 in answer to an increasing demand for skilled sound healing practitioners she, in association with Sacred Sound Workshops opened the Tibetan Bowl Sound Healing School. The schools mission is to help create and maintain a high standard of practice with the Sacred Sound Instruments.
Where to find Diane Mandle online
Books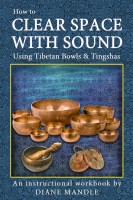 How to Clear Space with Sound Using Tibetan Bowls and Tingshas
by

Diane Mandle
Now you can use the ancient art of Tibetan sound healing using tingshas and singing bowls to transform your own space and that of others! This e-book is a complete instructional course designed to help you learn all the basic aspects of using sound to clear space. Even if you're a total beginner, you'll get immediate and powerful results from simply following Diáne's easy to follow instructions.
Diane Mandle's tag cloud