Dick Young
Biography
Margaret & Dick have been married for over 50 years and currently reside in Texas. Dick spent over 50 years in the I.T. industry and Margaret has been primarily a housewife while raising their 4 children. Margaret supplies the driving motivation for their writing partnership, and Dick executes the detailed plan. Believe it or not, they still speak cordially to each other in spite of being writing collaborators.
Books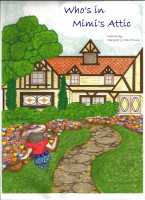 Who's in Mimi's Attic?
by

Dick Young

&

Margaret Young
Children's story of a group of animals coming together to solve a common problem with the aid of a pair of human friends. A 'read to' book for children 4 and up and a good read for children 7 or 8.
Dick Young's tag cloud
Smashwords book reviews by Dick Young
Tarayla on Nov. 27, 2012



This is the kind of book that we don't see often enough today -- a good, solid Space Opera. Brings back good memories of the earlier days of Robert Heinlein or the works of Christopher Anvil, etc. Any fan of Military SCFI or just rousing adventure will enjoy this book. It is packed with good characterizations, exciting action, and told in a straight-forward writing style that keeps the plot developing at a fast pace while allowing a place for character development. The plot revolves around a group of characters who are placed into a desperate situation in a war gone wrong and must weld themselves into a team that can survive and accomplish despite circumstances largely beyond their control. All must contribute or perish. Anyone who has been in any military, or even read about it, can relate to the assorted characters and situations here. This book is suitable for teens and up and reflects the realities of military life without being unduly offensive. I truly wish more books in the epublishing world were as well done as this one. I don't think anyone will be disappointed.