Dimakatso Molapo
Biography
DIMAKATSO MOLAPO has been writing since grade school, she considers herself as a simple down to earth woman. Her hope is that readers are able to take a minute to reflect and see if they can honestly relate to her work and hopefully touch a few hearts along the way as they go through the emotional pieces. In the end if her hope is realized then that would pretty much be mission accomplished on her part!
Books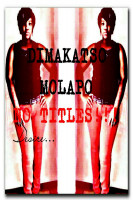 No Titles_Desire
by

Dimakatso Molapo
Lust, passion, love, tragedy, cruelty, rage, addiction and the one that got away. An emotional rollercoaster basically in this short poetry book
Dimakatso Molapo's tag cloud
Smashwords book reviews by Dimakatso Molapo
Lost on Jan. 12, 2018



This book is raw its real.. i've never been so emotionally invested in such beautiful art.. its sad its romantic.. its erotic.. it captured my attention from start to finish.. found myself pulling an all nighter cause I just couldnt get enough I just had to know what happened next. Incredible work!! Amazing... truly!