Diogenes of Mayberry
Biography
I have journeyed through the entire spectrum of belief from moderate Christian, to born-again, back to moderate, to agnostic and finally, over the past 10 years, to confirmed atheist. Raised in a moderate Christian family with regular attendance in church as a child, indoctrinated in a Baptist school for two years, I started the journey to atheism in university after being removed from the weekly immersion of church and exposed to new ideas and experiences. I prefer to think of myself as a humorous humanist, rather than a raging atheist. I am also a certified scuba instructor and a passionate marine environmentalist.
Where to find Diogenes of Mayberry online
Videos
Manifest Insanity Promotion Video
Manifest Insanity, available @ https://www.smashwords.com/books/view/300335
Books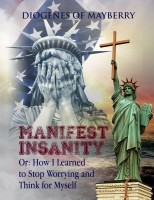 Manifest Insanity, Or: How I Learned to Stop Worrying and Think for Myself
by

Diogenes of Mayberry
(5.00 from 1 review)
Manifest Insanity is an irreverent social commentary that traces the history of Judeo-Christian doctrines and how they have evolved over the centuries, impudently contradicting the perception that these established beliefs were original to their traditions, and specifically challenging the evangelical Christian concept of literal inerrancy—yet, an entertaining, humorous and accessible read.
Diogenes of Mayberry's tag cloud