Judith Hemenway
Biography
As a very young child, Judy was afraid of the water, until the fateful day her father picked her up and threw her, water-wings and all, into the deep end of the pool. She immediately realized that she had found her true element, and hasn't come out of the water since, except grudgingly to earn enough money to support her diving habit. She and her husband, Jon Fellows, spent their honeymoon in 1974 diving in Cozumel, and in the four decades since then have dived extensively around the Channel Islands of Southern California. They have also traveled to the Turks and Caicos Islands, Mexico's Sea of Cortez, Fiji, Borneo, Papua New Guinea, Tonga, and the Solomon Islands to get their diving fixes. Now retired and living in the Central Coast area of California, they have given up cold water diving, but still travel to tropical waters, always in search of new diving adventures.
Where to find Judith Hemenway online
Books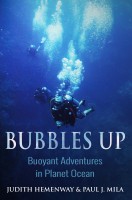 Bubbles Up
by

Paul Mila

&

Judith Hemenway
Plunge into the world's oceans with divers Judith Hemenway and Paul Mila. Meet 30-ton whales eye to eye, dive into the Caribbean surrounded by hungry sharks, and turn back time as you explore a World War II Pacific wreck. Feel the thrill of an eagle ray flyby in Cozumel, Mexico, and experience the rush of a barracuda feeding frenzy. Divers, snorkelers, and ocean lovers will enjoy these stories.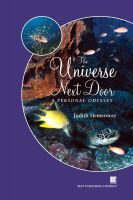 The Universe Next Door: A Personal Odyssey
by

Judith Hemenway
Price:
$0.99 USD.
Words: 53,520. Language: English. Published: September 1, 2013. Categories:
Essay
»
Author profile
Adventures abound in this exciting journey into the sea written by an avid and experienced scuba diver. Written from a personal perspective that will enable the reader to experience a wide range of adventures, from light-hearted and funny to tense and suspenseful. The author calls "The Universe Next Door" her love song to the sea and to scuba divers everywhere.
Judith Hemenway's tag cloud