Doc Scriven
Biography
Darryl "Doc" Scriven is a graduate of both Florida A&M University and Purdue University. He earned a Ph.D. in Philosophy and has taught at Wilberforce University, Southern University, Tuskegee University, and lectured at dozens of universities across the country and world. Doc is the author of seven books ranging from fiction to academic to self-improvement. TheLoveCommitment.com is his second novel. He is co-founder of The African American Family Enrichment Institute in Atlanta, Georgia and, as such, is committed to building families that will thrive for generations. To contact Doc, to find out when he will be speaking in your area, to host a Love Commitment Seminar for your group, or to obtain special discounts on orders of this book and The Love Manual, visit www.TheLoveCommitment.com for details.
Where to find Doc Scriven online
Books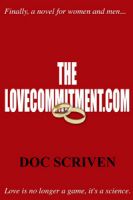 TheLoveCommitment.com
By
Doc Scriven
Price:
$9.99 USD.
Words: 64,230. Language: English. Published: November 11, 2011. Category: Fiction
Gigi and Timo had been living together in Atlanta for a year and dating for three. But one night, after Gigi brings up marriage, an argument leads to an explosive break-up. When they finally meet again, Gigi has discovered a system that transforms love from an art into a science and teaches women and men how to be married in two years or less! Book Club Questions and Relationship Guide Included
Doc Scriven's tag cloud