Doğu Ergil
Biography
Lisans eğitimini sosyoloji dalında Ankara Üniversitesi'nde tamamladı; lisans-üstü derecesini sosyoloji ve sosyal psikoloji dalında Oklahoma, doktora derecesini sosyoloji, siyasal ekonomi ve siyaset bilimi dallarından oluşan disiplinlerarası 'Kalkınma Çalışmaları' (Development Studies) alanında New York Eyalet Üniversitesi'nde (Binghamton) elde etti. Akademik kariyerinin büyük kısmını Ankara Üniversitesi Siyasal Bilgiler Fakültesi'nde (Mülkiye) sürdürdü. Ortadoğu Teknik Üniversitesi, TODAİ Yüksek Sevk ve İdare Okulu, Johns Hopkins Üniversitesi'nin Washington DC'de bulunan yüksek lisans okulu School for Advanced International Studies ve London School of Economics and Political Science'ta konuk hocalık yaptı. Bilimsel çalışmalar yanında ülkemizde eksikliği duyulan ve geçmişte üniversitelerde okutulmayan demokrasi ve uzlaşma kültürü, yaratıcı sorun çözümü, çatışma yönetimi ve liderlik konularında çalışan sivil toplum kuruluşlarının oluşumunda bulundu, programlarını yönetti. Demokrasi ve barış çalışmaları nedeniyle çeşitli uluslararası kuruluşlardan ödüller aldı. Güncel sosyal ve siyasal gelişmeler hakkındaki gözlem ve düşüncelerini, BBC'den El Jazeera'ya uzanan uluslararası ve ulusal TV kanallarında ve köşe yazarlığı yaptığı Today's Zaman'da geniş bir izleyici kitlesiyle paylaşan Ergil'in Türkçe ve yabancı dillerde yayımlanmış 24 kitabı, birçok makalesi, değişik dillerde kitap bölümleri ve alan araştırmaları vardır.
Books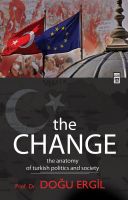 The Change
by

Doğu Ergil
Turkey is changing. Day by day and moment by moment, the Turkey that we thought we knew is disappearing and a new one is taking its place. Dogu Ergil presents a complex mosaic of essays covering every corner of Turkish politics and society. From the Kurdish issue to the wars in Iraq and Afghanistan, to the intrigues of the ruling AK Party and the opposition parties Ergil leaves no stone unturned.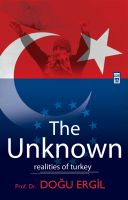 The Unknown
by

Doğu Ergil
"The Unknown: the Realities of Turkey" takes the reader day by day through the clamor of modern Turkish politics and brings order and clarity to a seemingly chaotic scene. Doğu Ergil's tutelage is an indespensible resource for any and all explorers of foreign affairs. Turkey sometimes seems to be a part of every circle, and other times seems to live in a world all of its own.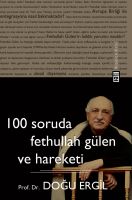 100 Soruda Fethullah Gülen
by

Doğu Ergil
Prof. Dr. Doğu Ergil, Fethullah Gülen'in kendi ağzından verdiği cevaplar ve daha önce yayımlanmış beyanları üzerinden derinlikli bir toplumbilim analizi yaptı: 100 Soruda Fethullah Gülen ve Hareketi.
Doğu Ergil's tag cloud