Dominic Lourex
Biography
I am an indie author who is fascinated with ancient cultures and civilisations. I believe there is evidence out there that we or someone else has been here before and I am currently writing a book about this. My favourite authors are people like Zecheriah Sitchin, Graham Hancock and even some of the stuff by David Icke. I love the fact that these guys have disputed the mainstream dogma of our human history and where we have come from. My book is now out, hope you enjoy it. Paliao everyone.
Videos
Hidden Human History
This animation does go for an hour but if you have the time its worth a look.
Books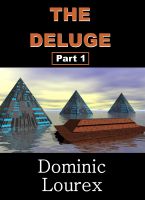 The Deluge
by

Dominic Lourex
(5.00)
Is it possible everything we are told about the history of humanity is wrong? The Deluge - part 1 explores the questions around what really happened at the end of the last ice age and the flood myths that have influenced our understanding of who we are and where we come from.
Dominic Lourex's tag cloud
Smashwords book reviews by Dominic Lourex
Light Magic on Oct. 23, 2012

Interesting read. Thank you for sharing this information. Hopefully you can check out my book "The Deluge - Part 1" published 22/10/12.