Don Geidel
Biography
Don Geidel was born and raised in Manchester, Connecticut. He enlisted in the United States Navy at the age of seventeen and rose to the rank of Chief Petty Officer, before obtaining a commission as a surface warfare officer. The highlight of his career was commanding the warship USS Hurricane (PC-3). After retiring from the Navy he joined the Coronado, California Police Department for a short time, then transferred to the National City, California Police Department, where he spent eight years before retiring. He is a graduate of the University of Washington with a B.A. in political science and the University of San Diego with a master's degree in education. He and his wife Doreen live deep in the forests of the great Pacific Northwest, but spend a good deal of their time traveling around the country. You can email Don at Geidelfarms@gmail.com.
Books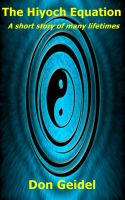 The Hiyoch Equation: A Short Story of Many Lifetimes
by

Don Geidel
Would you travel back in time to kill Osama Bin Laden and prevent the 9/11/2001 terrorist attack from occurring? The answer seems obvious, until you get there...
Don Geidel's tag cloud