Don McCain
Biography
Don McCain is simply a believer who has served as a messenger of the Lord to many countries for 40 years in such capacities as Youth Pastor, Senior Pastor. He has operated in all five-fold ministry gifts as the Lord required. As an apostle he helped start churches. As a prophet he provided spiritual direction to some groups. As pastor he cared for congregations and as a teacher he has led small business groups and conferences.
Today Don serves as Vice President to a growing company as the head of sales for eleven southeastern states. In this capacity he proves that the truths shared from the pulpit all these years work for all believers and not just those behind the pulpit. He leads others in understanding these truths and becoming successful because of them.
Don's wife labeled him, 'The Bridge Man,' a person used of the Lord to help others in life transitions – here a word, there a word, line upon line and precept upon precept in the making of Disciples. He is the founder of Hearts For Souls Ministry and Director of "My God is God"campaign, now known as "There is Hope", the use of Testimony of God's deliverance from death to life door to door cd hand out.
Books
Crafting a Disciple
by

Don McCain
When Jesus issued what is now known as the Great Commission, it wasn't a suggestion - it was His final command to His disciples. Over the past 2,000 years the Church has gotten pretty good at getting people born again, but accepting Jesus Christ as your savior is not the same thing as being a disciple. Don McCain points out this one often overlooked spiritual truth - Disciples are made; not born.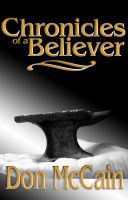 Chronicles of a Believer
by

Don McCain
Chronicles of a Believer is a story about love and loss, powerful enemies and more powerful allies, simple faith that moves mountains and simple faith that accepts when mountains won't move. And it is a true story – a story about the full life that is available to everyone who believes.
Don McCain's tag cloud