Dennis F. Shaw
Biography
Peace Corps Volunteer, Ecuador. Then, conscripted into Army infantry--11 months as combat soldier. Professional writer for non-profits. Extensive work writing about how to live with chronic conditions. Expertise in veterans issues, brain injury, alcoholism, teaching non-traditional learners. Teaching Fellow, Writing Workshops, Johns Hopkins (MA, 1985). Have taught writing and literature at American U, Geo Wash U, College of Southern MD, FL Community College at Jacksonville. Long time volunteer with
outpatients at Walter Reed Medical Center.
Books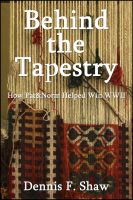 Behind the Tapestry: How Pat&Norm Helped Win WWII
In 1939, a sailor marries a Brooklyn girl before he ships out on a new destroyer. She follows him to San Diego; he sails to the North Atlantic. For the next 6 years, he then fights the enemy in the Pacific while she fights war profiteers at home in California. Long separations and infrequent letters frustrate them. How will they overcome these challenges and develop a marriage?
Dennis F. Shaw's tag cloud