Don Spector
Biography
Starting as a junior copywriter at a Madison Avenue advertising agency in the '60s, Don Spector qualifies as a genuine Mad Man. Creating advertising for high-profile accounts like Smirnoff Vodka ("It leaves you breathless"), he began his ascent up the creative ladder. Working in several New York agencies, his commercials and print ads for advertiseres like Xerox, the Yellow Pages and Jaguar ultimately led to an offer of a key position in Los Angeles-based BBDO/West where he was soon named Creative Director. After moving to Foote Cone Belding/Los Angeles, he eventually started his own agency where he served clients of all stripes. In his career, the advertising he created for dozens of companies like ARCO, Absolut Vodka, Bristol-Myers and S.C. Johnson won numerous awards. But, more importantly, it generated millions of dollars in sales.
Books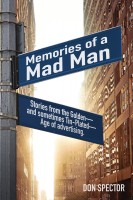 Memories of a Mad Man
by

Don Spector
Was the world of advertising really as colorful as it seemed in the TV show "Mad Men"? See for yourself. Author Don Spector, a genuine Mad Man himself, captures that often-wild world in Memories of a Mad Man. The creativity that birthed much great advertising, the alcohol, the famous, and the infamous people he dealt with. They're all part of a book that portrays a most memorable era.
Don Spector's tag cloud