James W Gibson
Biography
Author James William Gibson, Lt. Cmdr. US Navy (retired)
Fresh from high school in western Pennsylvania, Jim Gibson joined the US Navy in July 1948.
He served as an enlisted man for 12 years, reaching the rank of Chief Engineman. Most of this time was spent on diesel powered subs. Bucking tradition during the post-World War II 1950s and '60s, Gibson was then promoted to Ensign and joined the ranks of commissioned officers.
He qualified twice as a submariner, first as an enlisted man and later as an officer. He also graduated from the Navy's elite Deep Diver School and attended, then taught at, the Navy's Nuclear Power Training Center in Arco, Idaho, where he served under Admiral Hyman Rickover.
Eventually, as a Limited Duty Officer, Gibson finally qualified for a command position on a submarine rescue ship, the USS Coucal (ARS-8), with a crew of 86. Gilding the Coucal is Gibson's first book and chronicles his life story from adoption through retirement.
Books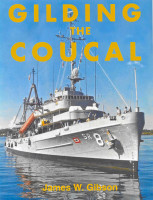 Gilding the Coucal
by

James W Gibson
(5.00 from 1 review)
From his parents loving arms to command of a US Navy submarine rescue ship, Lt. Commander James W. Gibson takes readers on an E-ticket ride to distant ports while rescuing hapless boaters at peril in the open ocean and eradicating starfish destroying fragile coral reefs. In Gilding the Coucal, he describes training as a US Navy Deep Diver, an Engineman, Fireman and in all stations of command.
James W Gibson's tag cloud