Dorothy A. Bell
Biography
Hello, let me introduce myself: My name is Dorothy A. Bell, the A. is for Ann. I'm a published author with Hartwood Publishing. I write, and enjoy reading Oregon historical and western romances. Love to make all kinds of wicked chocolate goodies. I grow cucumbers to make my own relish and bread and butter pickles, and tomatoes to make my own salsa and sauce. Love to exercise in the water, tell stories, and write spicy, entertaining, colorful romances. My husband of fifty-three years and I, reside in our tiny 352 square foot home with our long-haired Dachshund Hector, and an old, angora, tuxedo cat.
Where to find Dorothy A. Bell online
Books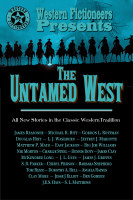 The Untamed West
by

Western Fictioneers

,

L. J. Washburn

,

Jeffrey J. Mariotte

,

S. D. Parker

,

Nik Morton

,

James Reasoner

,

Clay More

,

McKendree Long

,

J.E.S. Hays

,

Michael R. Ritt

,

Jesse J. Elliot

,

Matthew P. Mayo

,

Big Jim Williams

,

Easy Jackson

,

J. L. Guin

,

James J Griffin

,

Cheryl Pierson

,

Tom Rizzo

,

Dorothy A. Bell

,

James Clay

,

Ben Goheen

,

Barbara Shepherd

,

Gordon Rottman

,

Charlie Steel

,

Angela Raines

,

Douglas Hirt

,

Dennis Doty

, &

S. L. Matthews
A collection of twenty-nine tales of the Old West featuring previously unpublished stories by such classic Western writers as James Reasoner, Douglas Hirt, McKendree Long, and Michael R. Ritt, and many more. Western Fictioneers is the only writers' organization devoted solely to traditional Western fiction, and this huge collection will take readers on a action-packed ride.
Dorothy A. Bell's tag cloud