Doug Friedenberg
Biography
Doug Friedenberg's years of experience on Wall Street have convinced him that adults are surprisingly like large children. Except that they use attorneys to resolve most conflicts. He worked at Morgan Stanley, ran a hedge fund, and writes for www.allaboutalpha.com, which covers the hedge fund industry. More recently, he has gotten to know the world a bit as principal for www.jigsaw-capital.com, a company which arranges cross-border finance for importers and exporters, and which is skilled in structuring unusual trade finance requirements.

And then he writes stuff like Phred.
Books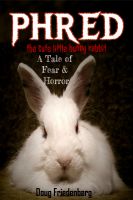 Phred, the Cute Little Bunny Rabbit. A Tale of Fear and Horror
by

Doug Friedenberg
When Phred persuades Jason to take him out of school for the weekend, Jason doesn't realize that Phred likes to give the orders. Jason finds out a little too late, and his life in the burbs becomes Wonderland. Phred's goal: to put humans in their place, in harmony with the rest of the planet.
Doug Friedenberg's tag cloud