Doug Hedman
Biography
Doug Hedman started working with machinery at a young age and at heart remains a gearhead, interested in everything with an engine that moves.
In his journey of working in the oil, trucking, and construction industries, he was offered the chance to meet people with tremendous history under their boots and learned from the wisdom these people offered to him.
Moving through a colorful career, Hedman retired from the corporate offices of a large international manufacturing company.
His travels, and the diverse collection of friends he met along the way, afford him the raw resources. Incredible world events yield the relevance. Melding the two provides the basis for his writing.
Books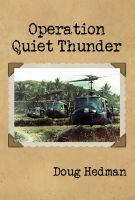 Operation Quiet Thunder
by

Doug Hedman
Price:
$3.99 USD.
Words: 103,680. Language: English. Published: November 3, 2012. Categories:
Fiction
»
Adventure
»
Action
In 1977, a messenger delivers a letter that shakes the harmony of a peaceful commune hidden in the small Canadian mining town of New Pontiac. Two Special Forces residents are forced back into action in order to keep their top secret operation from the Vietnam War covered up. Time is running out to finish what was started six years before. Failure will fracture the foundation of the US Government.
Doug Hedman's tag cloud