Sarah Stephenson
Biography
Joining the Bristol school of dancing, aged 7, Sarah spent most of her childhood performing in prisons, theatres, old people's homes and the Grand Palais in Paris. Later she trained as an actress, working with Mike Leigh and other distinguished directors. When the children arrived she trained as a chef, and when they'd finally flown the nest, catered in Europe, Britain and the States, giving dinner parties. Sarah still works as a chef and writes.
Books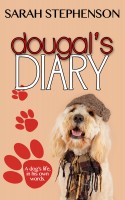 Dougal's Diary: It's a Dog's Life
by

Sarah Stephenson
Has he chosen his owner well and landed on his paws? Dougal the Labradoodle puppy, a complete hypochondriac and Boris Johnson's No 1 fan, arrives in Greenwich with great expectations. He longs to travel the world on Virgin Atlantic, dine at royal banquets, become a superstar or work as a doorman at the Savoy, but behaviour classes were never on his wish list. Will his dreams ever come true?
Sarah Stephenson's tag cloud