Douglas Robertson
Biography
Doug Robertson (author of "He's the Weird Teacher") has been an elementary school teacher for nine years now. As low man on the totem pole he moved around a lot, but it has given him a chance to experience all kinds of teachers and students. He now resides in southern Oregon with his wife and son, where he teaches fourth grade (again). For fun he trains for triathlons, rides his motorcycle, and makes small children cry at the mall. Doug vehemently resists the negative stereotype of teachers and fights for teacher rights as often as he can. He advocates for his students and loves and believes in each and every one of them. Doug has a grand plan to become a famous teacher and infect future generations of educators and students with his philosophy, which will lead to a joyous education renaissance, flying unicorns, and rock and roll for all.
Where to find Douglas Robertson online
Books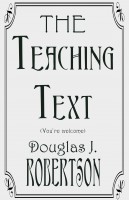 The Teaching Text (You're Welcome)
by

Douglas Robertson
Douglas James Robertson's new book brilliantly covers The Test, controlling administrators, being connected, and so much more. If you have a question about teaching the answer is in this book. If the answer isn't in this book your question was dumb.* You're welcome. *Yes, this is a satire.
Douglas Robertson's tag cloud