Douglas Talley
Biography
Douglas L. Talley received a BFA in creative writing from Bowling Green State University and a JD from the University of Akron. Early in his career he practiced law with a firm in Akron, Ohio, and presently works as an executive in a small consulting company. For several years he edited a poetry column for an on-line publication, MeridianMagazine.com. His poems and essays have appeared in various literary journals, and in 2009 his work was nominated for a Pushcart Prize. He and his wife April live in Copley, Ohio, where they both continue to write and raise their family.
Books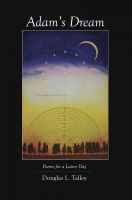 Adam's Dream: Poems for a Latter Day
by

Douglas Talley
Adam's Dream is both learned and accessible, inviting us to look hard at the world and take delight therein: a child wearing cereal bowls for shoes, a meatloaf sandwich a blink away from being loaves and fishes, tumblers in the kitchen sink taking flight like "a flock of cardinals." Prepare to dream you are riding to China on a bike to become a poet. --Lance Larsen, Backyard Alchemy.
Douglas Talley's tag cloud