Dr. April D Murdaugh
Biography
Dr. April D. Murdaugh is a Wealth Coach dedicated to the financial education of women. She is the president of The Empowerment Financial Group,LLC, a wealth management firm for women. She provides individual financial counseling, planning, workshops, support groups, and courses to assist women in changing their financial mindset/ behaviors, and create generational wealth.

She is the also founder of The Economic Empowerment Center, Inc. a 501c3 non-profit organization that provides financial education for high school and college students.

Dr. Murdaugh is a full-time college professor, and published author of a study on the financial literacy of undergraduate college students.

She is mom of four wonderful children. In her spare time, she enjoys running, reading, and listening to music.

If you want to Stop Broke-i$m! and live financially confident life contact her for your complimentary consultation.
Books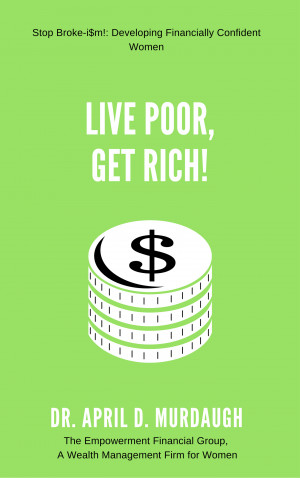 Live Poor, Get Rich!
by

Dr. April D Murdaugh
This book shares the habits of the wealthy using biblical principles in a practical manner. It allows readers to learn how wealthy people think and manage their money. This information will transform the average persons' financial lives from paycheck to paycheck living, to wealth accumulation.
Dr. April D Murdaugh's tag cloud