Christina Bjorndal
Biography
Dr. Christina Bjorndal, B. Comm, ND, graduated from the University of British Columbia in 1990 with a Bachelor of Commerce Degree with honours. She was valedictorian of her graduating class. She completed her doctorate in naturopathic medicine from the Canadian College of Naturopathic Medicine in 2005. She is one of the only licensed NDs in Canada who is considered an authority in the treatment of mental illnesses such as depression, anxiety, bipolar disorders, eating disorders, ADD/ADHD, OCD and schizoaffective disorders. A gifted speaker and writer, she has shared her personal story and philosophy of wellness with audiences across North America. Dr. Chris has helped many patients navigate through labels and stigma toward physical, mental, emotional and spiritual well-being. Having overcome many challenges in the sphere of mental health, Dr. Chris is especially exceptional about sharing in her motivational speeches how to overcome barriers in life and encouraging others to achieve their full potential. She loves her work and balances it with a full, active lifestyle with her husband and son. To learn more about her books, courses and retreat, please visit: naturalterrain.com. If you would like Dr. Chris to speak at an event, please contact her at admin@naturalterrain.com or call 587-521-3595.
Where to find Christina Bjorndal online
Books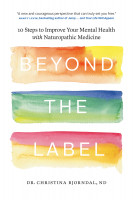 Beyond the Label: 10 Steps to Improve Your Mental Health with Naturopathic Medicine
by

Christina Bjorndal
An inspiring and empowering guide to emotional freedom, from a Naturopathic Doctor who took charge of her own life and mental health.
Christina Bjorndal's tag cloud