Richard Lettis
Biography
Richard Lettis was born in Springfield, Mass. He earned a B.A. at the University of Massachusetts and an M.A. and Ph. D. from Yale. He has taught at Ohio University and Long Island University, where he served as chairman of the English Department and Dean of the College of Arts and Science. He has published two books on Dickens, a pamphlet on J. D. Salinger, and several articles. He is now retired and lives in Ramsey N.J. with his wife, Lucy. He is the proud father of five children, eleven grandchildren, and three great-grandchildren, all superior beings.
Where to buy in print
Books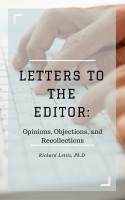 Letters to the Editor: Opinions, Objections, and Recollections
by

Richard Lettis
Letters cover some forty years of American concerns and include religious topics, LGBT rights, gun control, unions, and the Obama administration.
Richard Lettis' tag cloud