Joseph Evans
Biography
Joseph L. Evans, Ph.D., is Executive Manager, Research and Development, Stratum Nutrition (Saint Charles, MO), and Founder and President of P and N Development Ventures (Saint Louis, MO), a consulting company providing scientific advisory services. Dr. Evans holds a Ph.D. in Biochemistry from Drexel University (Philadelphia, PA), and received post-doctoral training in molecular biology, biochemistry, cell biology, physiology, and pharmacology at Dartmouth Medical School (Hanover, NH) and the University of Copenhagen (Copenhagen, Denmark). Dr. Evans' research experience spans over twenty years and has focused on the discovery, development, and commercialization of pharmacological and nutritional interventions for the metabolic, cardiovascular, and inflammatory diseases. Dr. Evans has extensive expertise in the areas of natural product pharmacology including antioxidants, polyphenolic compounds, nitric oxide, and oxidative stress. Dr. Evans has played a major role in the development and commercialization of a first-in-class controlled release formulation of alpha-lipoic acid for individuals with type 2 diabetes, a first-in-class nitric oxide generator product for the sports nutrition industry, and a first in class nutritional intervention designed to enhance mitochondrial biogenesis. Dr. Evans has co-founded or helped launch 7 different bio-tech and nutritional start-up companies. Dr. Evans' translational research experience extends from basic biochemistry research through randomized, controlled, clinical trials. Dr. Evans has published approximately 75 peer-reviewed scientific papers, review articles, book chapters, and US patents. He has served as a peer reviewer for more than 30 scientific journals. See www.pndvhq.com for complete details of Dr. Evans' career.
Where to find Joseph Evans online
Books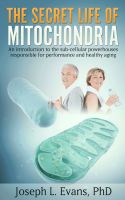 The Secret Life of Mitochondria
by

Joseph Evans
The Secret Life of Mitochondria seeks to explain the role of mitochondria (sub-cellular powerhouses) as a major component of the beneficial health effects of exercise and caloric restriction, and to provide a simple, but scientifically sound, template for using nutrition to maximize the body's inherent ability to produce new mitochondria.
Joseph Evans' tag cloud