Dr. Paula Stone Bender
Biography
Paula Stone Bender, Ph.D., clinical psychologist, has over 40 years experience working professionally with families. She is the author of "How To Keep Your Kids from Driving You Crazy," as well as the director of various child guidance centers and a professor of Psychology at a number of Universities. She considers raising her two sons, now both in their 30's and parents themselves, as her greatest accomplishment as they taught her the real "ins and outs" of successful parenting. In hopes you enjoy her book, " How to Keep Your Teenager from Driving Your Crazy."
Books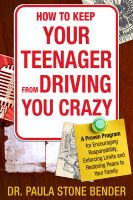 How to Keep Your Teenager From Driving You Crazy: A Proven Program for Encouraging Responsibility, Enforcing Limits and Restoring Peace to Your Family
by

Dr. Paula Stone Bender
Your parent-teen relationship doesn't have to make you lose your mind. Dr. Paula Stone Bender's simple and proven methods encourage responsibility and positive attitudes in your teen. Dr. Bender shows you how to develop and implement a behavior contract that will improve your teen's behavior by setting clear expectations and providing structure to their lives.
Dr. Paula Stone Bender's tag cloud