Tom Fowler
Biography
Tom Fowler started writing at a young age and has yet to stop. He would write silly little stories at age six, sometimes in lieu of going outside. In the intervening years, he would like to think he's gotten better at writing. Tom is a lifelong geek, sports fan, and game, and enjoys writing mysteries, spy adventures, and sword-and-sorcery fantasy.
Where to find Tom Fowler online
Books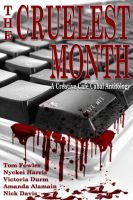 The Cruelest Month - A Creative Café Cabal Anthology
by

Tom Fowler
This anthology has it all: a murder mystery, a post-apocalyptic story, a tale of young children and the dangerous power of wishes, a story about the slow damage people do to each other in relationships, and a zany look at the manifestation of writer's block. The proceeds from this Creative Cafe Cabal short story anthology The Cruelest Month all benefit the Wounded Warrior Project.
Tom Fowler's tag cloud