Mitchell Hartshorn
Biography
Mitchell Hartshorn is a published writer and is and has written in many different genres with a strong link to writing in the genres of horror, fantasy, mystery, and comedy. He is currently working on achieving his Bachelor Degree of Fine Arts at Full Sail University. He was recently published in The Literary Hatchet, Special Issue #15 August 15th, 2016. He has many interests that range from one end of the spectrum to the other with strong connections to religion and philosophy. He believes there is beauty in the world in all aspects. From the darkest moments of the world in Mr. Hartshorn's mind there is always a silver lining.
Where to find Mitchell Hartshorn online
Books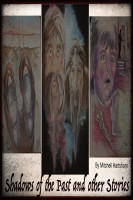 Shadows of the past and other stories
by

Mitchell Hartshorn
SHADOWS OF THE PAST AND OTHER STORIES is a collection of three stories and they all have their own different twists. "Cody" is a mix of the macabre with humor mixed in. "A Helping Hand" is a religious parody of sorts, and "Shadows of the Past" is a flash fiction piece about a man and a secret. They explore the what-ifs of things we may know.
Mitchell Hartshorn's tag cloud