Andrew Estep
Biography
Andrew Estep is an aspiring TV writer and is currently working on a BFA in Creative Writing for Entertainment. He writes adventure, fantasy, and animation. He has a high school degree. Working and acting in plays have really helped him find his passion in script writing, and he enjoys reading scripts from various movies and television programs. He loves wolves. You can reach him at his yahoo (andrewestep@ymail.com) and his google (wolf.estep@gmail.com) e-mail accounts.
Books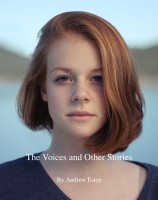 The Voices and Other Stories
by

Andrew Estep
THE VOICES AND OTHER STORIES contains three short stories, each with it's own dynamic. There is the unsettling of The Voices, the adventure of The Wolf of Light, and the sympathy with Table for Two. You are sure to like this book.
Andrew Estep's tag cloud