Dr Tim King
Dr. Tim was born and raised in Northeast Ohio and has spent over 30 years in the people-helping profession. He completed a Bachelor of Science degree in psychology and a Master of Arts degree in clinical counseling and is a Licensed Professional Clinical Counselor and Supervisor in the state of Ohio. In 2014, Dr. Tim earned and received his doctorate (Ph.D. in clinical counseling) from Liberty University. In addition to completed course work from the University of Akron and Kent State University he has extensive training in Marriage and Family, Conflict Resolution, Addictions, Parenting, Life Coaching, and Grief Issues.

The founder of Family Care Counseling Centers and Coaching for Living, Dr. Tim has hosted live call-in radio shows and has made guest appearances on several radio and local television programs. As a sought-after guest lecturer at colleges and universities, he has spoken to audiences of thousands throughout the United States and abroad and has consulted to numerous school systems and businesses. His passion is to see individuals, families, organizational leaders, business leaders grow to reach their full potential by living emotionally, physically, spiritually, and relationally healthy lives.

Dr. Tim enjoys being outdoors hunting, fishing, playing baseball and spending time with his family. He has been married to Stacy for over 30 years and is the father of three children: Kyler (married to Kourtney), McKala, Kaleigh, and one grandchild, Rylan Rachelle. Dr. Tim's family is active at NewPointe Community Church and resides in Uniontown, Ohio.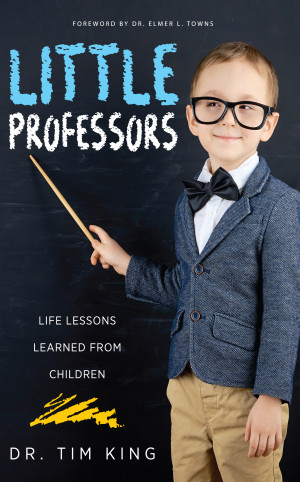 Little Professors: Life Lessons Learned from Children
by

Dr Tim King
Little Professors is an inspiring book about life lessons learned from children. Parenting can be joyful - but difficult at times. The principles shared in this collection of stories come from the mouths of babes, so the reader can learn from these "little professors." You won't want to miss these timeless and priceless pearls of wisdom.