Douglas Roberson
Biography
I was born and raised in the United States of America. Have I lived my whole life in the USA? As they say in Maine, not yet!! Would I want to live any where else? No, not a single other nation offers what the USA offers and will continue to offer as long as the government (we the People) hold our representatives (Those we voted to represent us) accountable in strict compliance with the constitution. I marvel at the wisdom God gave our founding fathers in writing the constitution and bill of rights. I also marvel at the lack of wisdom by those who keep trying to take those freedoms away by ignoring or twisting the constitution. I thank God that even though I did not deserve his love that he loved me anyway. I thank God for the proof of his love through his sacrifice of Jesus Christ not only for my sins but for the sins of the world. I am also grateful for the victory over sin and death that God gave me and anyone who believes, when he raised his son Jesus Christ from the dead. I reckon I'm just a grateful person in general.
Books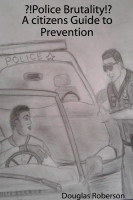 Police Brutality A Citizens Guide to Prevention
by

Douglas Roberson
What you as citizen can do to prevent becoming a victim of police brutality.
Douglas Roberson's tag cloud