Dulyapak Preecharushh
Biography
Dulyapak Preecharush teaches in the Department of International Relations, College of Politics and Governance, Mahasarakham University, Thailand. He holds a BA in Political Science with First Class Honors from Kasetsart University and an MA in Southeast Asian Studies (International Program), with financial support by the Rockefeller Foundation, from Chulalongkorn University. He has published a number of articles in scholarly journals as well as participated in seminars at a number of universities and academic institutes, for example, Layola Marymount University (USA), Leiden University (the Netherlands) and Asiatic Society (India). His academic interests include geopolitics, geostrategy, Southeast Asian Affairs, and contemporary Myanmar.
Where to buy in print
Books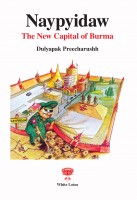 Naypyidaw: The New Capital of Burma
by

Dulyapak Preecharushh
Naypyidaw: The New Capital of Burma examines the possible factors involved in the current relocation of the capital in order to enrich and enhance understanding about contemporary Burma/Myanmar in various aspects - including History, Geography, Political Science, Military Science, Economics, Sociology and Urban Architecture. Fully illustrated with maps and colour photographs.
Dulyapak Preecharushh's tag cloud