Dydi Lowe McGough
Biography
Dydi Lowe McGough is a retired Neonatal Nurse, Nurse Practitioner of 42 yrs. She loved taking care of her fragile, micro-preemies that she could hold in the palms of her hands. Yes, literally in the palms of her hands. She was given a special gift of soothing, praying with, and teaching the parents and families of her tiny patients. She's been married 41 years to her high school sweetheart, Don McGough. They have 2 military sons, a daughter and 10 grandchildren. Two years ago she became disabled. Struggling through several physical illnesses, and surgeries she became discouraged. One morning during prayer The Holy Spirit brought to mind a prophecy made over her 12 years previous that she had "books" inside of her. She remembered from previous teachings that when you receive a prophecy, like a vision you make preparation through the Holy Spirit to step forth and run with it. She humbled herself before God seeking guidance and structure. She was guided into studying the Word through the view point of praying the Will of God by learning His Will through His Word. She searched and researched until she came to realize that everything and anything you need to pray for has a reference and a template in The Word. Being obedient she pursued her task that was given her. The result of which is this book and the beginning of one to follow. By sharing with others she wishes to share the key that unlocked her prayer life and intensified her relationship with her Heavenly Father. Now it is her turn to share and teach on another level.
Where to find Dydi Lowe McGough online
Series
Books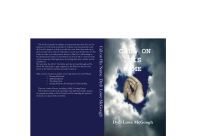 Call on His Name - Victory Through Prayer
by

Dydi Lowe McGough
This book is intended to enhance your personal time with the Lord. It's purpose is to help you reach into your heart then reach up to the Lord & out to others. It will help you come into the Presence of The Father to make your prayers and petitions known to Him. The Bible has a template for every prayer request. Search & you will find them. Our prayers have to legitimate in order to be answered.
Dydi Lowe McGough's tag cloud