E. C. Hibbs
E. C. Hibbs has lived all her life in Cheshire, north-west England. A lover of stories from an early age, she wrote her first 'book' when she was five, and throughout school was a frequent visitor to the younger classes to read her tales to the children.

Living so near the coast, she loves anything to do with the sea. She studied Animal Behaviour at university and longs to work with marine mammals in the future. As well as nature and animals, she also has a soft spot for history, and loves paying visits to castles, cathedrals and museums.

There are many things she could be without, but writing isn't one of them. She carries a pen everywhere, in case an idea appears, and takes pride in still seeing the world as brimming with magic. Besides writing, she reads obsessively, her favourite genres being the classics and all kinds of fantasy. She also enjoys Disney and horror films, practising Shotokan karate, drawing, archery, and playing with her very cheeky kitten.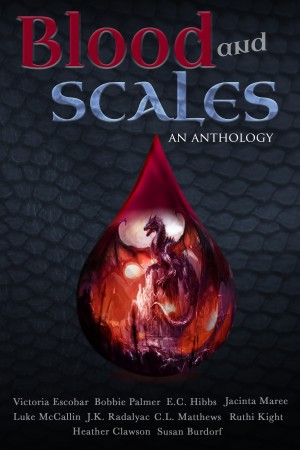 Blood and Scales: An Anthology
by

Victoria Escobar

,

Ruthi Kight

,

Jacinta Maree

,

Bobbie Palmer

,

C. L. Matthews

,

E. C. Hibbs

,

Heather Clawson

,

J. K. Radalyac

,

Luke McCallin

, &

Susan Burdorf
This is a collection of ya/mature ya short stories featuring dragons. All royalties are going to the American Diabetes Association. Authors are: E.C. Hibbs, Jacinta Maree, Victoria Escobar, Susan Burdorf, Luke McCallin, C.L. Matthews, Ruthi Kight, J.K. Radalyac, Bobbie Palmer and Heather Clawson.