Evelyn Cucchiara
Biography
I'm a mom and business owner in New Jersey. My organizing experience comes from the trenches. I'm the mother of three boys and two indoor cats. In addition, I own and operate an art studio for children in my home, and, along with my husband, we own a house flipping business. I also run an organic food co-op out of my garage every other week. Sounds busy, right? But my house is always neat, my systems always work, and my life is sane and orderly. And my family and I have lots of time for fun together!
Books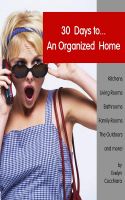 30 Days To An Organized Home
by

Evelyn Cucchiara
30 Days To An Organized Home contains time proven, best of the best, never fail strategies to organize your home. 30 days, 30 sections of ideas for all areas of your home that seem to attract clutter and mess. Within each section are tips that will make your life easier and keep your home organized forever! Just a few minutes spent with 30 Days To An Organized Home will revolutionize your life!
Evelyn Cucchiara's tag cloud