E.D. Foxe
Biography
E.D. Foxe is originally from Ellensburg, Washington, but after moving around a bit, he now lives in Alexandria, Virginia. He has been employed as a dishwasher, a fry-cook, a teacher, an investigator, an analyst, a program specialist, and then an analyst again. He is the author of a short novel, "Waking Up Naked On My Mother's Grave," and "Rosamund," a collection of 80 poems. Writing as James Hoby, he is also the author of two short, comic novels: "Cousin Tina Disappears" and "A Year with the Hoopers."
Books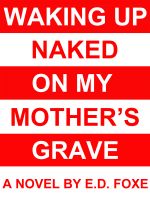 Waking Up Naked On My Mother's Grave
by

E.D. Foxe
Before you get too excited, despite its title, "Waking Up Naked on My Mother's Grave" isn't a horror book. It's just a short, surreal, coming-of-age novel about a young man who travels to Washington, D.C., seeking his fortune. In no time at all, he's working for a contractor and living with a somniphobiac girlfriend.
E.D. Foxe's tag cloud