E.M. Ben Shaul
Biography
E.M. Ben Shaul lives in many communities. An Orthodox Jew and writer of gay fiction, E.M. lives in the simultaneously gay-friendly and Jewish-friendly Boston area with her husband and twin daughters. A technical writer by day and freelance editor by nights and weekends, E.M. likes to knit, cook, and coin neologisms. E.M. seeks to explore the seeming conflict between religious teachings and the heart's desires.
Books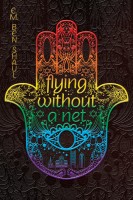 Flying Without a Net
by

E.M. Ben Shaul
Dani Perez, a secular Israeli working as a software engineer, has never had trouble balancing his faith and his sexuality—until he meets Avi Levine, a gay Orthodox Jew and sign language interpreter. As they fall in love, they are challenged to reconcile religious ideology that conflicts with the life they are trying build together.
E.M. Ben Shaul's tag cloud