E. N. Christian
Biography
E. N. Christian has always had an interest in the 'otherwordly', be it the cosmic horrors who lurk just beyond Man's ability to think and reason, or the more common paranormal events experienced by everyday people, as those things fall solidly into the category of the 'Unknown'.

Sharing stories focused on the unknown is, and has been, E. N.'s way of communicating to the world that despite life's mundane façade, there is always something slinking about just beyond the periphery of our world which can see us clearly, and its true intentions are perhaps its most endearing qualities.

Reality is an illusion that we perpetrate upon ourselves, and that which you cannot see or comprehend, is the thing you should search for with the utmost trepidation.
Books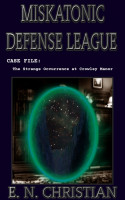 Miskatonic Defense League, Case File: The Strange Occurrence at Crowley Manor
by

E. N. Christian
When Edward Montrose sets out to investigate Crowley Manor in Dunwich, Massachusetts on behalf of the Miskatonic Defense League, he has no idea that he's about to embark on a journey that will put his sanity to the ultimate test. Will he discover the cause of the strange disturbances plaguing the estate's new owner, or will he fall victim to powerful cosmic forces beyond his imagination?
E. N. Christian's tag cloud