Eric Shreves
Biography
I've always had a passion for history, art, and writing. As a young boy, I often searched for "treasures", excited in the discovery of something old and interesting. I also loved to draw and write. Even at the tender age of eight or nine, I was writing short stories and then doing the illustrations to accompany them. I love to create, whether it be with my hands, through art and photography, or with the written word. I don't place much distinction between the different media. All are just ways to bring your thoughts and ideas to life, to share with others what you like to create.
Smashwords Interview
Books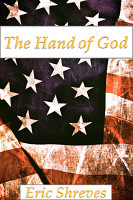 The Hand of God
by

Eric Shreves
(5.00 from 2 reviews)
With the discovery the radioactive element Luciferium, the Confederacy begins to turn the tables on the Union in their effort to win the Civil War. Can the Union fight back in time to stop the South from using their new secret weapon, The Hand of God?
Eric Shreves' tag cloud