Eboney Lewis
Biography
Eboney Lewis has the heart of an intercessor and prophet. She has been called to be a "Watchman" on behalf of God's people. Eboney's allegiance is to the Lord and she reveals God's hidden knowledge, divine purposes, direction and revelation. Eboney has been raised up to bring edification, exhortation, and comfort to all that is in need of God's voice and His authenticity in their lives. Eboney strives to ever press and advance God's kingdom through obedience, submission, and a desire to spread His truth and the unfiltered Gospel of Jesus Christ. She currently serves as a prophet and intercessor for the Inner Healing and Deliverance Ministry, and the Kentucky Prophetic Activation and Training Team located in the city of Lexington.
Eboney resides in Lexington, Kentucky with her son, Shondelle and a few of her family members.
Books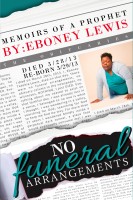 No Funeral Arrangements: Memoirs of a Prophet
by

Eboney Lewis
No Funeral Arrangements: Memoirs of a Prophet is the story of Eboney Lewis (in her own words) as she remembers the accounts of homelessness and hopelessness during her life of awakening.
Eboney Lewis' tag cloud