Bruce Kimzey
Biography
Bruce W. Kimzey taught economics and finance for almost 40 years at New Mexico State University, Pepperdine University, University of Nevada-Reno, Brigham Young University, and BYU-Hawaii. He retired in 2007 and moved to Phoenix, Arizona where he lives with his wife Judy. He received his BS degree from BYU and his PhD in economics from Washington State University in Pullman, Washington. His previous books include The Property Tax in New Mexico, Reaganomics, and Mormons and Money.
Bruce was born in Worland, Wyoming and married his high school sweetheart Judy Brinkerhoff. They are the parents of six children, twenty-seven grandchildren, and three great-grandchildren.
Books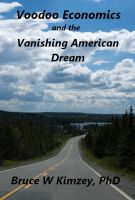 Voodoo Economics and the Vanishing American Dream
by

Bruce Kimzey
Voodoo economics is the belief that if one says something often enough it will be accepted as true regardless of evidence. Examples are "Tax cuts pay for themselves" and "The rich pay an unfair tax burden". Growth in income and wealth over the past 30 years has gone almost exclusively to the top 3 percent, while the middle class American dream has been systematically eroded.
Bruce Kimzey's tag cloud