Ed Gilds III
Publisher info
My name is Edward Gilds, and my love of football inspired me to write "My First Football Team". This book is about a little boy's dream of one day being on a team. He thinks it's because of the sport, but he learns that its the connection he has with his other family members, especially his dad. He learns to depend on his inter strength to help him be more successful on the field. In the end, the little boy finds that the game has filled his heart.
Books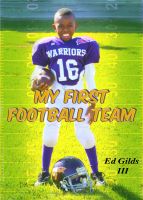 My First Football Team
by

Ed Gilds III
I couldn't have been more than four years old when I went into the kitchen where mom was cooking, and told her I wanted to be a football player when I grew up. She asked me, "how do you know that Trey?" I answered telling her that football was my favorite sport.
Ed Gilds III's tag cloud