Edith Konecky
Biography
Edith Konecky began her writing career while still in high school, winning a short story contest for which she was paid a penny a word. She enrolled at New York University when she was seventeen, married when she was twenty-one, lived a suburban life for twenty years, writing occasional short stories. At the age of thirty-seven, she returned to college, this time to Columbia. She began to publish her stories, writing many of them at Yaddo, where she won fellowships from 1964 through 1969. Her books include Allegra Maud Goldman, A Place at the Table, Past Sorrows & Coming Attractions, A View to the North, and Fiction and the Facts of Life.
Where to buy in print
Books
Fiction and the Facts of Life
by

Edith Konecky
Rachel is a writer who is coming to terms with her art and her life. The book mixes sadness, the facts of life, invention, and the vicissitudes of memory with the surprising changes of time passing. In the course of the novel, Rachel drafts a novel which gradually takes over the story. It's all full of love, life, sex, memory factual and fictional– told with deep insight, humor and wit.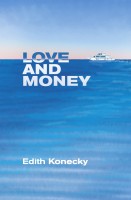 Love and Money
by

Edith Konecky
This wonderful new novel by Edith Konecky, author of Allegra Maud Goldman, forays into the world of wealth, family,and love. Witty and broad in peerspective, Konecky takes us on a cruise in delightful waters.
Edith Konecky's tag cloud