Edward V. Graef
Biography
Edward V. Graef

1911 - 1989

Edward V. Graef was a gifted mathematician though he had no formal training in math. He had a M.A. in Social Administration from Ohio State University and a B.S. in History and Education from City College of New York. By the time he retired, he was Executive Director of the Health Research and Services Foundation in Pittsburgh (part of the United Fund (United Way)), and was responsible for creating the Health-O-Rama, which provided free health screening.

Edward served as an Army infantry captain in the Philippines during WWII, and was awarded a Bronze Star. He first demonstrated his mathematical abilities while in the service. He devised a method of firing mortar when the sight is lost or broken, and received a Legion of Merit commendation for the effort.

While in the service, Edward married Eleanor Marshall, an American Red Cross volunteer and the daughter of a former mayor of Columbus, Ohio. They had four children: Ed, John, Howard, and Marsha. It was while helping his children with geometry homework that his interest in the Three Ancient Problems began.

Edward was also an accomplished writer. He took the daily letters he wrote to his wife during WWII, and compiled them into a memoir. Entitled "War Letters: Eleanor, My Darling--a Memoir of WWII", it is available as an eBook.
Books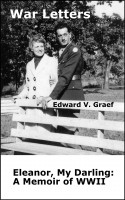 War Letters: Eleanor, My Darling--a Memoir of WWII
by

Edward V. Graef
From the perspective of "an officer and a gentleman"--a memoir of World War II told through letters sent from an Army Infantry captain to his lovely Red Cross wife back home. It is a story of love amidst a heroic war; a love begun in the Army camps of the southern US, and then continued from afar from the jungles of the South Pacific--New Guinea, Dutch East Indies, and the Philippines.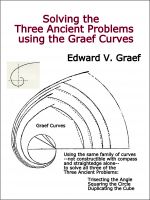 Solving the Three Ancient Problems using the Graef Curves
by

Edward V. Graef
Three Ancient Problems (trisecting the angle, squaring the circle, duplicating the cube) have challenged mathematicians for 2000 years. It's impossible to solve them using compass and straightedge alone, so mathematicians were challenged to create a curve or curve family to solve all three. No one accomplished this feat--until Graef. His curves were verified/published in top math publications.
Edward V. Graef's tag cloud