Michael Eisenberg
Biography
Michael Eisenberg is a Vietnam era veteran of the USN honorably discharged with a rank of Petty Officer 3rd class and has served on numerous ships and submarines. He has also served in the Israel Defense Forces in the function of a military police officer.

Michael owned and managed Florida Woodworks Inc. in Orlando, FL, engaging in the manufacturing of solid cedar furniture for local wholesale and retail markets. After moving to Israel in 1982 to explore his Jewish heritage and become involved in the Messianic Judaism movement, he then owned and managed numerous businesses in Jerusalem including owner/manager of the King George Hostel and manager of the Palm Hotel and the Feisel Hotel. It was at this time that he met and married a German volunteer from the hotel he managed, Barbara. Michael then became the owner and chief contractor of Jerusalem Plumbing Service for several years while raising two sons – Natanel and Daniel.

In 1997 Michael took his wife and sons to America.

Since then, Michael achieved building his own dream house in a quiet 16-acre plot in rural West Virginia, where he lived in a beautiful solar-powered earth-sheltered home. The 7-year project was taken one step at a time using the very same formula and logic described in this book. Performance is now outstanding requiring no summer cooling and little winter heat. Aesthetics are consistently praised by neighbors and friends.

In late 2016 Michael was diagnosed with esophageal cancer, and tragically succumbed to the disease in early 2018. Over the last few years of his life he was involved in the launch of a new business with his son Natanel, a mobile app called ConsumerBreak.
________________

Soon after moving to the U.S. in 1997 and finishing this book, Michael briefly tried to market it unsuccessfully and then stored away the only paper copy. It lay dormant in a box for 20 years. Then one day while sorting through old belongings, Natanel came across and read it for the first time. He then digitized and self-published it as this e-book.
Books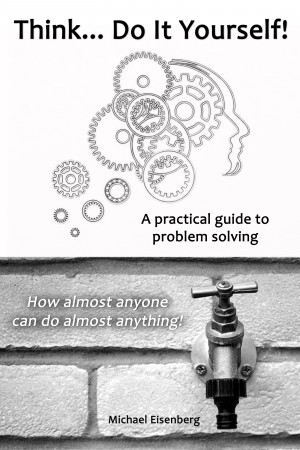 Think... Do It Yourself! A Practical Guide to Problem Solving.
by

Michael Eisenberg
This book, through logic and examples, will teach you how to think about, and to do just about anything for yourself. All of the logic that you will need is represented in two easy lessons. The examples will show the practical application of that logic. DIY projects range from fixing plumbing leaks to building a solar water heater, showing techniques that can be applied to almost every situation.
Michael Eisenberg's tag cloud