Dennis Fabel
Biography
Hello; I lived in Southwest Montana for 10 years during the time I researched the lives of the Electa characters. There, the past doesn't seem very far away. The dry air practically preserves history and not all that much has changed in 125 years. We raised our family there and our son has since moved his family back to the small valley we raised him in. I sincerely hope the story is written objectively enough that readers can make up their own minds about Henry's guilt or innocence. He never got the jury of his peers that he deserved. May you, the reader, serve as a reader's jury of sorts, and perhaps Henry will finally receive some justice in death that he never received in life.
Where to buy in print
Books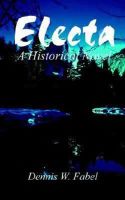 Electa: A Historical Novel
by

Dennis Fabel
electa bryan takes a steamship from ohio to idaho territory with her sister's family to start a mission to teach blackfeet indians how to farm. there, henry plummer wins her heart and proposes but is unable to support her. he travels to bannock where he mines gold and is elected sheriff. there they make a lonely life for electa and a dangerous one for henry, who is charged with robbery and murder.
Dennis Fabel's tag cloud