Electric Angel
Biography
Electric Angel is an investigative journalist and Targeted Individual since 2008. She is also a businesswoman and author of three books on the topic of mind-control, a humanitarian, philosopher and inventor. Since 2010 she has been at war with perpetrators to end Electronic Harassment in her own life and, through her books, the lives of others. She is committed to ending the scourge of V2k mind-control as a form of interpersonal terrorism and torture in a world where electronic mind-control is not only a reality, but a daily nightmare for hundreds of thousand, perhaps millions, of people all over the world.
Where to find Electric Angel online
Books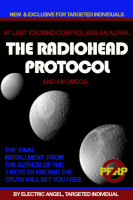 The Radiohead Protocol
by

Electric Angel
The 3rd book in the V2k trilogy that started years ago with "The 7 Keys to V2k" and "The Truth Will Set You Free" and definitive answer to unanswered questions about V2k and mind-control. As the most uncompromising book ever written on V2k, "The Radiohead Protocol" is the only info that stands between victims and world domination by aggressive Perps who use V2k to create worldwide pandemonium...
Electric Angel's tag cloud